Follow our brand new SERVE Nazareth Instagram page
Good news, everyone!
SERVE Nazareth just landed on Instagram.
Make sure you follow our new page so you don't miss out on any updates!
What can you expect on our Instagram page?
Practical information on the SERVE program, lots of photos and videos of what our volunteers get up to, exclusive interviews with our SERVERs and much more!
Or if you're a QR enthusiast… scan this code: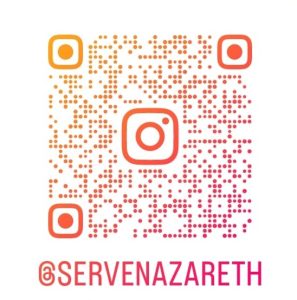 A big welcome to Majdoleen Nawatha: SERVE Nazareth Coordinator
After former SERVE Director Christine Farah transferred to the Nazareth Hospital's Pastoral Care Team, we were delighted to appoint Majdoleen Nawatha as SERVE Nazareth Coordinator on the 20th of September, 2022.
Welcome to the Nazareth Trust's family, Majdoleen! Thank you for all your wonderful work so far.
Please read on to learn more about her: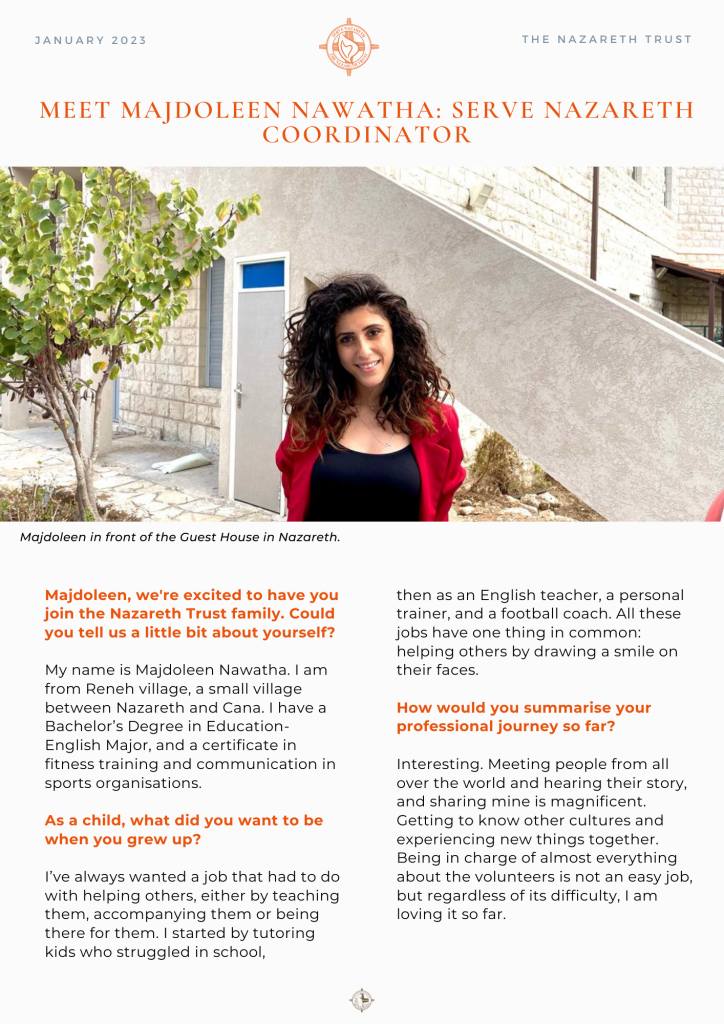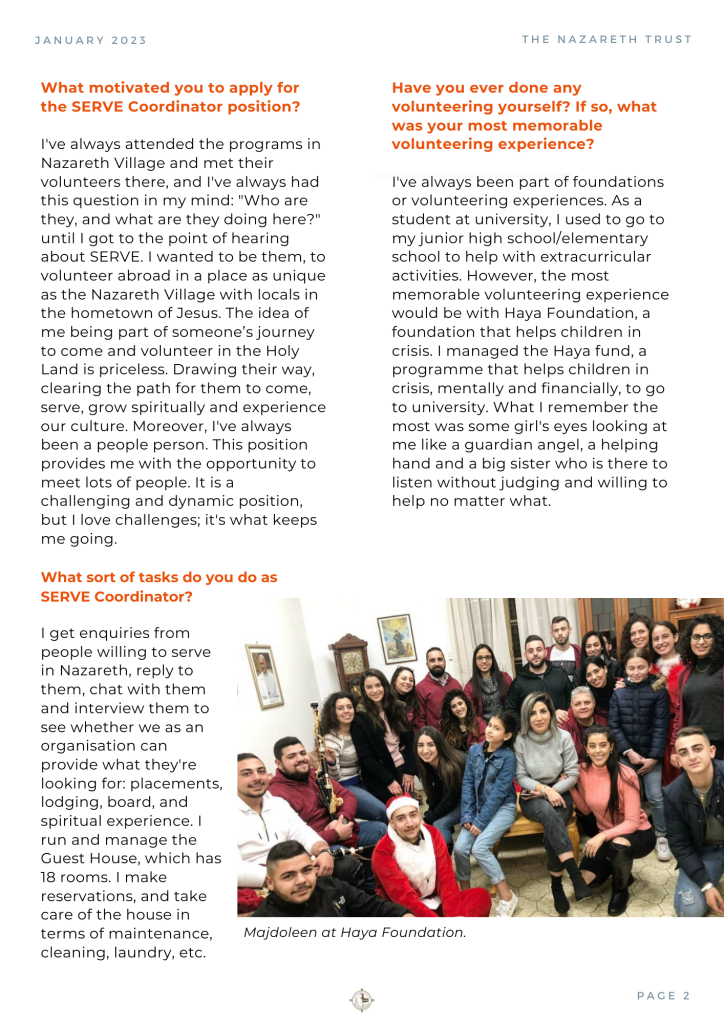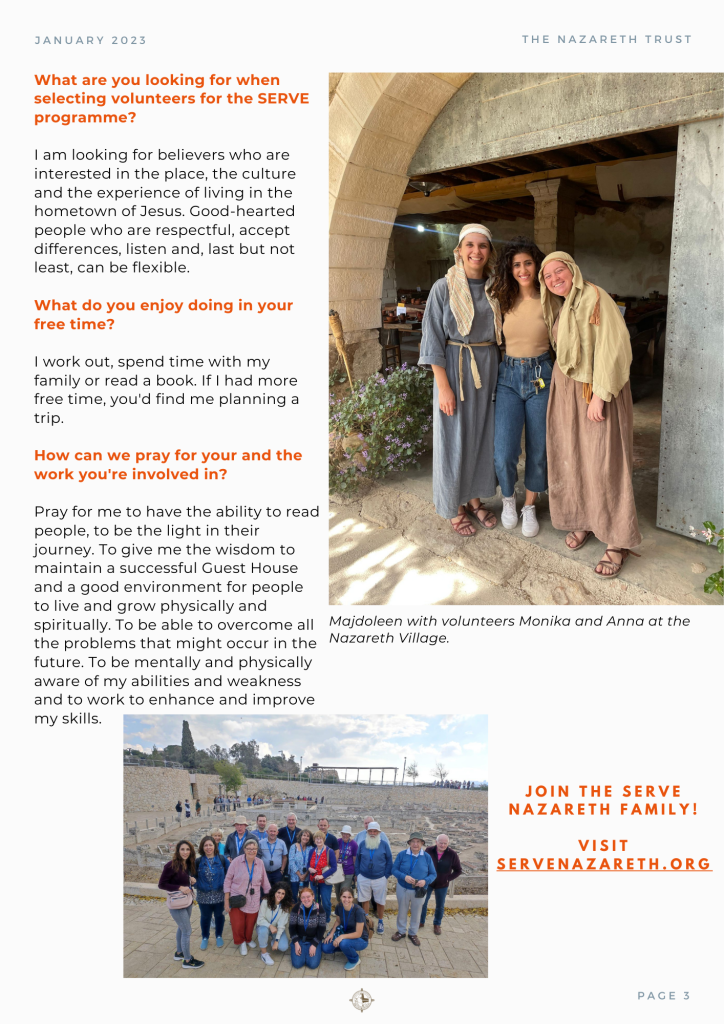 Memories from Cheryl Gentle
My family connection to the Nazareth Hospital began in the 1950's when my grandparents served there. My grandfather, Rev. Forest Eisenbise, was the hospital chaplain and my grandmother, Grace, worked with mothers and babies. She also supported student nurses. They lived in the lower level of what is still known as the Old Doctors House. When my parents and other family members first visited on a tour in 1993, it was one of the first places we wanted to see. At that time, there were still people in the Hospital who remembered my grandparents and their work there.
In 2012 I was able to return to Nazareth as part of the SERVE program under Christine Farah. I was blessed to work with the chaplaincy program, in the nursery, and in the sterile supply area. It really connected me to the work my grandparents had done so many years before. When I walked by the old house or spent time in the chapel, it had special meaning.
In 2018 I did the Jesus Trail which was challenging but very rewarding. There's nothing like walking in the steps of our Lord. Back then, I was able to stay in the doctors house for the first time. Plans for the renovations were already underway.
It was a blessing for me to travel to the Holy Land for a fourth time. The first trip in 1993 had a very similar itinerary to the one last month and included my parents, aunt and uncle and husband. It was very special on this recent trip to remember my Dad looking out from Masada and my Mom going up to the Jericho tell. On that trip we read scripture and sang hymns while on our boat on the Sea of Galilee.
On my recent trip in October of this year it was exciting to see the beautiful work that has been done to modernize the old house. It is wonderful to know that current and future SERVE participants will enjoy staying there, just as I have. I love visiting the Holy Land, but being at the Hospital, school of Nursing and seeing old friends from my SERVE experience will always be the best part for me. It was wonderful to meet some of the same special people ten years later — they are still working there! It speaks to their dedication to teach and heal in the name of Christ.
Seeing the expansion of the School of Nursing was a highlight. As a retired nurse and one who called Nancy Martin a friend, it was very emotional to know that her legacy lives on. Bob and Nancy are so loved at the hospital and all of us can understand why. After waiting for two years for this tour to happen because of Covid delays, it exceeded my wildest dreams.
The living examples of service that we saw at the Nazareth Hospital, the School of Nursing and SERVE gave me precious memories that will last for years to come.
I can't wait to see it all again!
Cheryl Gentle
South Jordan, Utah USA
December 2022
International Volunteers Day 2022
This Monday was International Volunteers Day, and we had a big celebration at the Doctor's House in honour of this special day.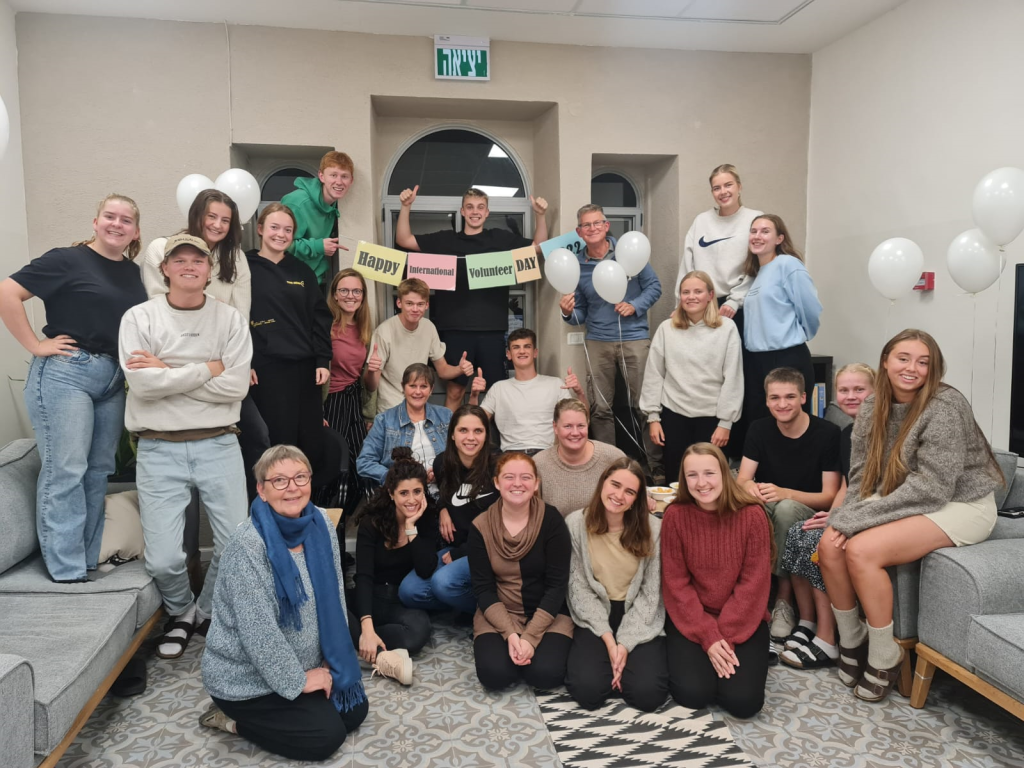 Our volunteers come from all over the world! Amongst those who took part in the celebrations, we had a group of 17 people and their two leaders from The Norwegian Church Ministry to Israel (NCMI) and our long-term volunteers from the UK, USA, Paraguay and Germany.
After spliting everyone into two groups, the games began!
Some of the challenges they had to go through included moving cups using a balloon, blowing a balloon to try knock over some cups, build a tower out ot cups… There was also time to play Bingo and a good game of charades, guest starring our beloved Olive Tree, which is always our preferred meeting point!
During the party, we also took the opportunity to celebrate the birthdays of two of our wonderful volunteers.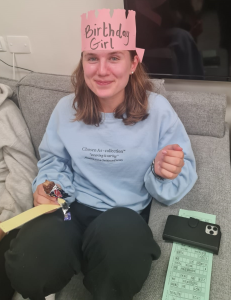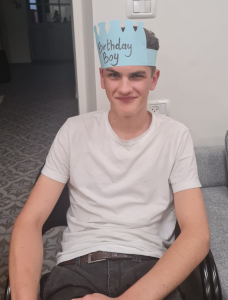 We couldn't be more grateful for all our fantastic volunteers: thank you for doing what you do! Thank you all for joining us yesterday. We all had a blast!
Counting the days for International Volunteers Day 2023…
Earlier this month we welcomed Arnaud to the Nazareth Trust family. Arnaud is joining us from Lyon, France and we asked him to share his motivation for working with us and a little about his experience so far.
SERVE Nazareth provides experiences like no other. Our programmes are tailored to each volunteer providing a personalised journey and experience for each SERVEr. Each volunteer encounters something unique and special to them.
We were recently joined by a church group from Scotland. John from the group shares some of his experiences with us.